I received a promotion copy of
Theo
which is a new anamation series that guides children and adults through a careful study of systematic theology. There are many Christian cartoons to choose from but this takes a much more systematic approach to teaching theology (get it..Theo..) so that it can be accessed more throughly by children.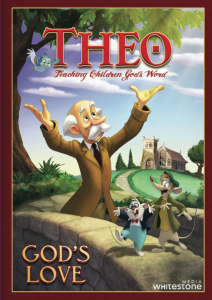 What I received in the promo package was the Good News Episode and one episode from Foundations of Faith. All of the DVDs can be found on their website
here
. As I was watching I was thinking, gee I would love to have a curriculum to go along with this. Low and behold, when I looked at the website that is what is included. It is $39.99 for a four episode dvd as well as a written curriculum. The episode that I watched was 10 minutes long and there are four on the dvd. The curriculum will come as a ROM portion of the dvd. I was able to play the dvd on my computer. You can watch the Good News Episode here! It is also on the dvds.
Theo - Good News
from
Theo Presents
on
Vimeo
.
And YEA they are captioned! The boo is that the promo is not captioned. I was going to just watch it myself but decided to let AJ take a gander at it. He did not catch everything and to use this as a teaching tool for him I would probably need it captioned; however, when Theo asked, "did you know God loves you?" AJ responded with, "yes I do!" Heartwarming. If he got nothing else that was enough for me that day. (A little whisper from God.) I did confirm SEVERAL times that they are captioned DVDs.
I begged AJ to give an video review but alas, he did not want to. But he did give me a few thoughts on what he liked. He loved what he called 'art work.' This was certain parts of the cartoon that broke out into mini-cartoons. (Hard to explain. The upshot is that they present the material in a variety of visual ways.) When I asked AJ if he wanted to watch a second episode he said, "yes please!"That is a sure sign that he liked it. The one downfall is that he said they were too short. He called them "nano-sodes." I actually liked the 10 minute format.
I personally liked that there was a mix of cartoons yet 'old style' references. For example, they made reference to hymns when Theo was walking through the hall singing Faith of our Fathers. Although this was a cartoon, it wasn't all "action" cartoon. There were actual 'teaching' times that I think caused AJ to slow down and think. (For example, when Theo asked if you knew God loved you.) There were other times when they inserted more cartoony moments. It was a very nice blend. I like that Theo was a real person trying to teach them vs. an cartoon character. Both can serve a purpose but I found this format lovely
So where can you find Theo? First there is the
website
and you can find samples of the curriculum
here
as well as coloring pages and parent pages which are very informative on the episodes. They also have a
facebook
page. And you can find them on
Amazon
or
Lifeway
. They also have a FREE ap that you can find via their website.
Now for something REALLY cool. They have a Buy 1 Give 1 Campaign. For every Theo DVD purchased, Whitestone Media and Child Evangelism Fellowship® will send a child in need their very own copy of Theo. You can log onto TheoPresents.com after making your own purchase, and select the region of the world you'd like another copy of Theo to be sent.
AND... You can win a free copy! I have the opportunity to give away two dvds. Keep in mind these might be the promo dvds (as they are sent from elsewhere) and may not be captioned. If you are hearing impaired and win, let me know and I will see what I can do. If you buy them they will be captioned. Contest ends Friday September 16, 2011. You can get an entry by:
1) subscribe and leave a comment. (If you are my FB friend that counts since I post there. Or subscribe via GFC on sidebar.)
2) facebook this post (and leave an additional comment)
3) re-blog this post (and leave an additional comment)
4) tweet this post (and leave an additional comment)
I received one or more of the products or services
mentioned above for free in the hope that I would mention it on my blog. Regardless, I
only recommend products or services I use personally and believe will be good for my readers.
I am disclosing this in accordance with the Federal Trade Commission's 16 CFR, Part 255:
"Guides Concerning the Use of Endorsements and Testimonials in Advertising.