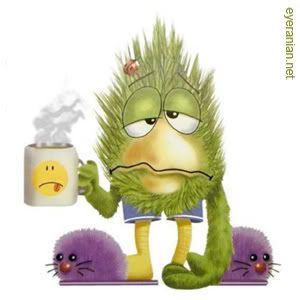 Last week we went to Ohio for an RDI appointment. It ate up two days and it was hard to get the momentum going when we got back. We started Enrichment Hub classes on Friday last week. So we had two 'full' days at home. This week started out well but by Tuesday night I felt like doo doo. I still do feel like doo doo. So what do YOU do when you feel like doo doo? There are no substitutes. Here are a few things that have gotten me through the week.
My husband has let me take extra naps and taken over. Thanks hubby.
Plenty of netflix.
Plenty of Wii and DSi.
The book stash has gone down. He did lots of handwriting...I don't care that it was in a Captain Underpants Book-O-Fun.
So what about you... as a homeschooling mom, how do you get through YOUR sick weeks especially if you have a child that needs constant direction?