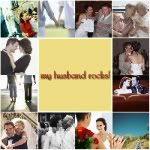 I knew this blog topic existed... and i just knew this was the week to start. So this story reads something like O'Henry except I did none of the giving. I have been wanting a Vitamix. I have been praying about it too and felt like today was the day. (I should have listened to Joyce telling me to not go by my feelings.) My good friend Lissa took me to Costco (because we do not have a membership) and we got the Vitamix. I got home, ripped it open and made my smoothies. yummo...
On Thursdays Mark has a friend that comes and helps him with stuff. I had gotten home with Andrew after his hair cut... and Costco...smoothie in hand. In walks John and Mark. I say, "Wanna a smoothie??" And John says, "nooooooooo..."
yep..
My dear husband had gone to Costco with John (who has a membership) and bought me a Vitamix. Now we have twins. Not really..one is going back. Yes, My husband rocks.